As a runner, finding the right shoe is just as important as finding the right partner. It becomes an intimate relationship You want your foot to feel welcomed in your running shoe. Some people are looking for a minimalist shoe (myself included) while others like the feel of the cushion in the shoe.
When looking for a running shoe, it's best to go to a specialty running store where they can do a proper gait analysis. From there, they will be able to tell you what type of shoe will be best for your style of running. They will be able to tell you if you are a pronator, if you supinate, or if you are a neutral runner. And based on that information, you will begin to find the right shoe for your foot.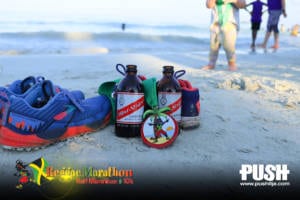 Runner's World recently had an article about the best running shoes for every type of run. So if you already know what type of runner you are, the article linked below can help you figure out what shoe is best for your run. Shoes have changed an evolved over the years so it's important to keep up to date with the latest technologies and styles with your running shoes.
https://www.runnersworld.com/gear/a19663621/best-running-shoes/
What do you look for in a running shoe? Do you prefer a minimalist shoe? Do you go for style or the colors? Share with us about your favorite running shoe.
Keep on running!
---
And don't forget to register for the 2021 Reggae Marathon. It will be held on December 5, 2021. We look forward to seeing you in Negril.
https://secure.getmeregistered.com/get_information.php?event_id=134878