Experiencing Reggae Marathon is one of those things that is hard to pin down.  Over the years hours of endless discussion and debate and still no definitive answer.  But with the 2019 Reggae Marathon less than 5 months away (Sunday, December 8), let's give it another go.
I think about Reggae Marathon all year.  OK, I'm spoiled.  I have a great gig in interacting with many of you throughout the year.  You share your running stories and experiences on Instagram, Facebook and Twitter.  Some of you even rock the Reggae Marathon T Shirt at a race!  I especially love those photos and stories.  You may miss a day or two not thinking about Reggae Marathon…I think about being in Negril in December every day!  Not a hardship!!
And that location!  Negril!  Miles of white sand beach on the most western tip of Jamaica.  A little remote, a lot special!  Even when we all gather in December it feels like we each have discovered our own little piece of paradise.  It never gets old or tired.  I started going to Negril with my family from a very young age.  We picnicked and swam at Long Bay Beach Park.  When I came to Reggae Marathon for the first time after years of separation, it felt like coming home!  Negril will do that to you…just ask any of the regular Reggae Marathoners.
The race.  There's something about that 5:15 am start time that keeps you coming back for more.  I've run countless road and trail races and triathlons and it's always butterflies at the start.  But no other race gets me so pumped up that waking at 3:30 am on a Sunday morning to go running is the most exciting thing to do.  Even though I go to bed by 9 pm after returning from the Pasta Party, the butterflies keep me awake much of the night.  And I don't mind…I'm already thinking about this December!
Gathering in the dark before the start with loud reggae music playing on the sound system.  The drums start up adding to the cacophony…it's madness and I love it!
Reggae Marathon has one of the best finish chutes I can think of.  The final 25 metres is on grass and is approached by veering slightly right from the paved road.  I could talk about that short distance endlessly.  Music is playing, volunteers stand just beyond the finish timing mats with your Finisher Medal then it's a short walk to the Beach!  Ahh…that Beach.  My Reggae Marathon Experience hits the zenith on the Beach.  Wading out into the sea minutes after finishing is the one thing that I talk about most frequently.  The Pasta Party, running in the dark, Finisher Medal…all nice to have.  Swimming in the beach after finishing…Love, love, love!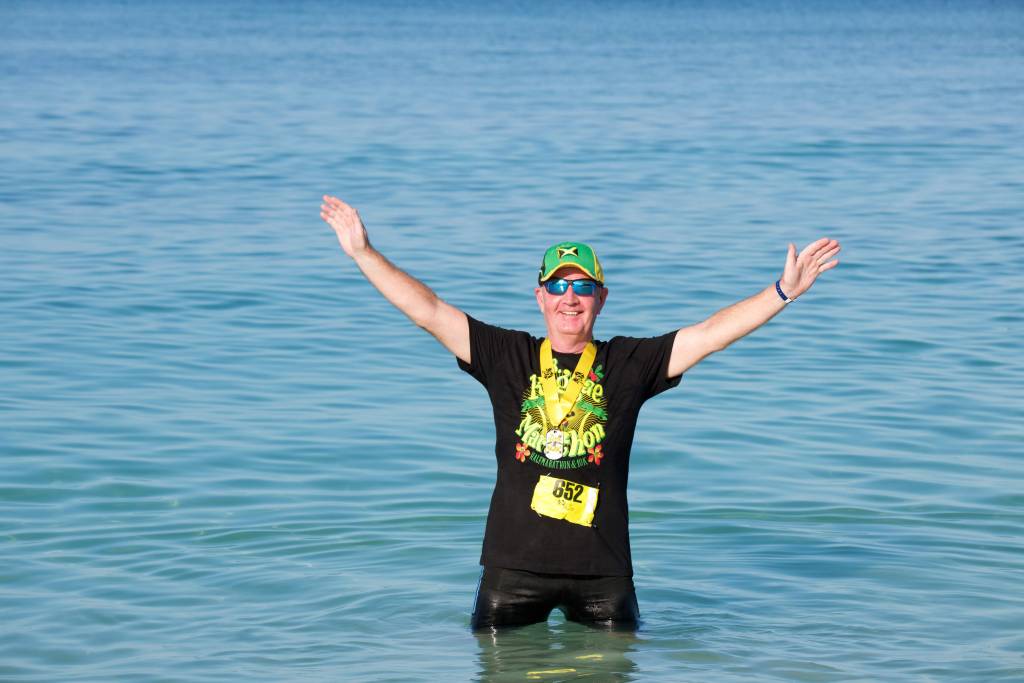 So…will you be joining us to make your own Reggae Marathon Experience for the first time this December 8?  Or will you be returning to add to your story?  Either way, we all look forward to meeting up with you for the 2019 Reggae Marathon Experience.
Until next time…
Reggae Marathon RunninGuy