Hydration is one of the most important things you need to keep in mind at any race event.  And even more so in the warm weather conditions in Negril in December.  Before, during and after, it's important to hydrate and re-hydrate with the proper balance of water and electrolytes.  Especially during a race event it can be challenging getting enough of either at the aid/water stations.  At Reggae Marathon we have you covered!
We supply water and electrolyte hydration in super-convenient plastic pouches.  And we do it at every aid station along the course…one at every mile!  Also, our re-hydration plastic pouches are available near the start line before the race.  After we have electrolyte replacement, water and fresh cut coconuts!  Here's a photo from a few years ago with one of our volunteers: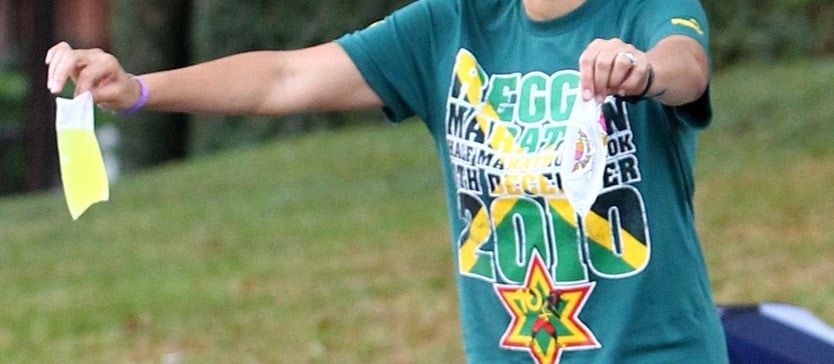 The clear pouch is filled with water and the other pouch is filled with electrolyte fluid.  This year at Reggae Marathon Gatorade will be available exclusively as a Sponsor and as the provider of the electrolyte re-hydration!  For more information on hydration, head to this page on the Reggae Marathon website:  Runners Essential Information.
Until next time…
Reggae Marathon RunninGuy