When you get to the finish line of the Reggae Marathon, you get to choose how you want to recover. First of course, you'll get your medal. Shortly after you get your medal, you'll walk into the finish line festival area. That festival area extends all the way to the Caribbean Sea where it's as blue as the eye can see.
Once you cross over to the finish line festival, there are a variety of methods you can use to help your body recover from your race. Given that the temperature is high when you finish, you might opt for the misting tent. It's a nice way to bring down your body temperature while enjoying some water and taking some time off your feet.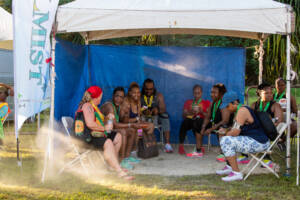 If you're a little braver, you can take a dip in the ice bath. As hot as I've been at the end of the Reggae Marathon, I have not braved the ice bath. Truth be told, I've only taken an ice bath a handful of times. While I am aware of its benefits, I just can't get used to the temperature.
Finally, you have the option of getting a massage. The massage tables are on the sand closer to the water. If you know that you want a massage, be sure that go there soon after your race because a line begins to form shortly after the 10k runners finish their race. A massage is a great way to break up the lactic acid that has built up in your legs.
Whatever form of recovery that you choose, the Reggae Marathon has some great options for you!