Today's blog post is from Kevin Bonfield
~~~~~~~~~~~~~~~~~~~~~~~~~~~~
"Singin' sweet songs, of melodies pure and true," It's our song. It's playing as we run around the enormous Christmas tree in Negril. The sultry morning is still dark and the mass of tiny blue lights on the tree lend an air of pure magic to the moment.
The Reggae Marathon magic had started earlier in the week. The beautiful town on the western tip of Jamaica knows how to host a party. Every hotel, every taxi driver, every local, they all help create the spirit of the day.
This will be our fourth time here. We chose to run the full 26.2 miles on our first two visits. This time we're taking it easy by tackling the shorter 10km route, just as we did last year.
It is such an international event. There's a gathering from the UK and of course all of the runners from America. We are joined by runners from over 35 different countries. The second year we came, we shared the beach with a Polish couple who ran the marathon before getting married on the beach.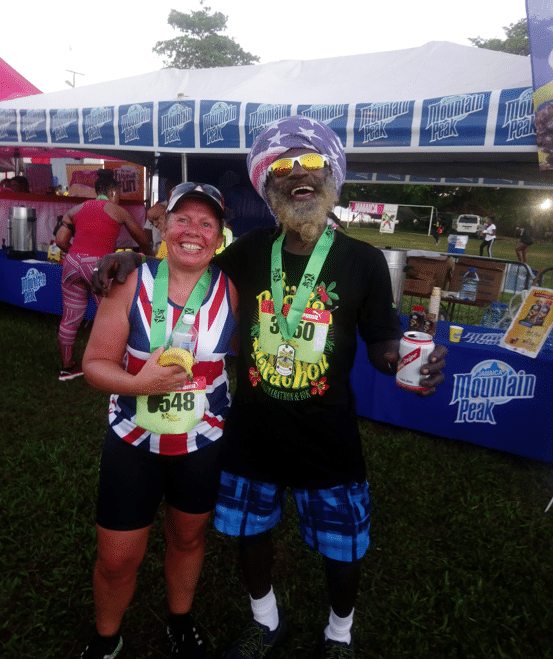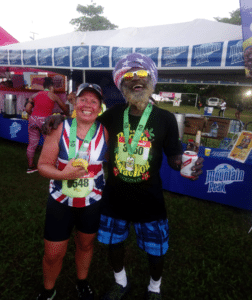 Race day starts very early with an excited gathering in the hotel reception. A fleet of busses ferry runners to the start and off load us into the party. The sound system is in full swing by 5am. There's plenty of Bob Marley sung as about 2000 runners start to gather at the start.
The first 500 meters of the run are lit by lines of flaming torches on either side of the road. The echoing of hundreds of running shoes in the darkness mixes with some excited chatter as the runners from each of the three distances find their pace.
The race is in our hearts, it gets under your skin, the place, the people, the music, the warmth, the stunning beaches, it really does put sunshine in your soul.
As a lifelong Bob Marley fan, having a sound system alongside the road at every mile means our ears are never without the joy of this island's musical heritage.
Sometimes the booming speakers at the side of the road capture the moment perfectly. The subtle strumming of guitar which signals the start of Redemption Song as the sun first appears on the horizon is a moment which will live in my heart forever.
We always hold hands as we approach the finish line. The commentator calls out our names. We tingle. We love this place. We love this race.