Margaret Byrne was at the first Reggae Marathon! Since then, she has run in 17 more. It would have been 18 if a snowstorm in her home state of Minnesota hadn't canceled her flight. (She ended up flying down on the day of the race, so she still made it to Negril.)
We are spotlighting Margaret as one of the Reggae Marathon regulars.
When did you start running? I started running in 1978. So, I have been running for 42 years.
Why did you start running? In 1978 I went through a very bad divorce. So to console myself I went on a singles ski trip. While I was there, I met a couple who ran every evening for three miles. So, I went and found that I could run three miles in my hiking boots. I loved skiing and decided that I would run 3 miles every day for the rest of my life to stay in shape for skiing. I never had planned to be a runner. But when I got home, my friend said if you can run 3 you can run 6 so come to a 10K with us. Then race after race, I found myself running marathons all over the world.
How did you hear about the Reggae Marathon? So in 2001, I was reading my Runner's World magazine. There was an article about how the Jamaicans are natural athletes, and they needed more athletic events, so they started the Reggae Marathon. I showed the article to a friend who said let's go. I said OK. We booked the trip and I ran the First Annual Reggae Marathon. I loved it and said I am going to run 10 in a row. Well now I am facing my 20th this December. However, I have had several recent injuries and the last time I did the 10k. Nevertheless, it is as wonderful as ever.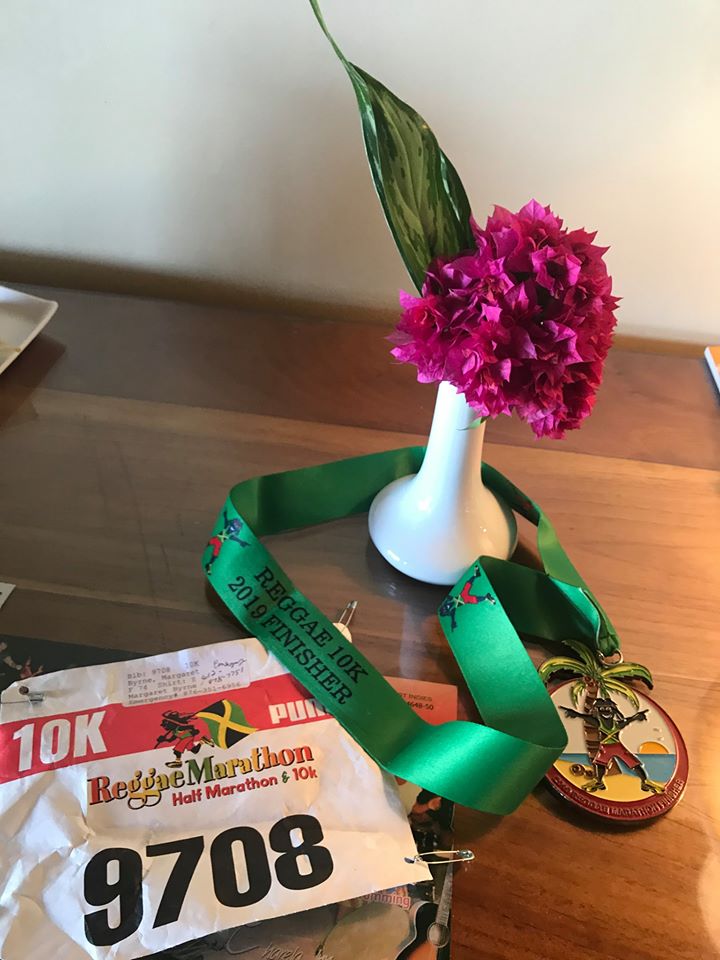 Do you travel by yourself or with a group? I travel alone to the marathon but have met a wonderful group of runners and we all meet for the Rasta pasta party before the Marathon and wait for each other to finish and then later celebrate with dinner at a wonderful Negril restaurant. I have met wonderful people and enjoyed this beautiful Marathon.
Anything special you want to share? I am so grateful for this event and the people. It is so special. We get coconut water to drink right from the coconut after the race and it is great to cool off in the ocean after the run.
Thanks, Margaret. We look forward to seeing you in December